Winery Jaroslav Šlichta

Wine Cellars

For guests of our family houses for recreation and other common tourists we offer wine tasting in one of our two wine cellars - "U Šlichtů", "Pod Starú Horú".

We offer wide ranch of wines and your evening program can be arrange according to your wishes. Refreshment consists of hot or cold dinner, tasting about 14 wines in the cellars. We can arrange folk cymbal music or accordion player. In each of our cellars can comfortably entertain 20 people.

We look forward to your visit and hope that you will be fully satisfied. V případě dotazu na posezení v našich vinných sklepích použijte některý z kontaktů.

Visit cellar with wine tasting and refreshments around 500 CZK / person for 5 hours. Music surcharge is for extra costs.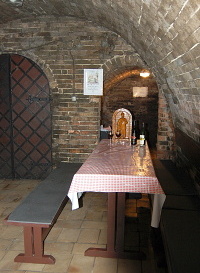 Wine Cellar "U Šlichtů"
Wine Cellar "U Šlichtů" was built in 1980 with quality brick and in 2010 was reconstructed. In the basement were built archival wine boxes, which together with barrique barrels kept the best wine from our cellars. In summer time it is an ideal stop for a cold glass of wine or evening party.
Wine Cellar "Pod Starú Horú"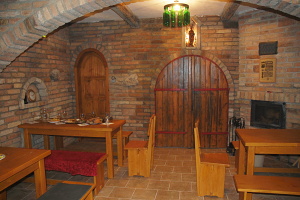 Wine Cellar "Pod Starú Horú" we acquired the property in 2010 and completely rebuild. The upper part is equipped with new massive furniture and complemented by a fireplace for cold evenings. Second part dates from 1985, is 12 meters long and 5 meters wide and is full of oak barrels for red wines. Third part is about 400-year-old "Haban cellar", the standard annual temperature is 7° C, and we use it as archive for bottles of wines.